The UNESCO Chair in Media and Information Literacy for Quality Journalism invites you to participate in next week's sessions on Bridging the Digital Divide in the Education System and Challenges in Intercultural Dialogue for Global Understanding. The virtual meetings will take place on Tuesday 7 July and Wednesday 8 July, at 17:00 hours Spain, respectively.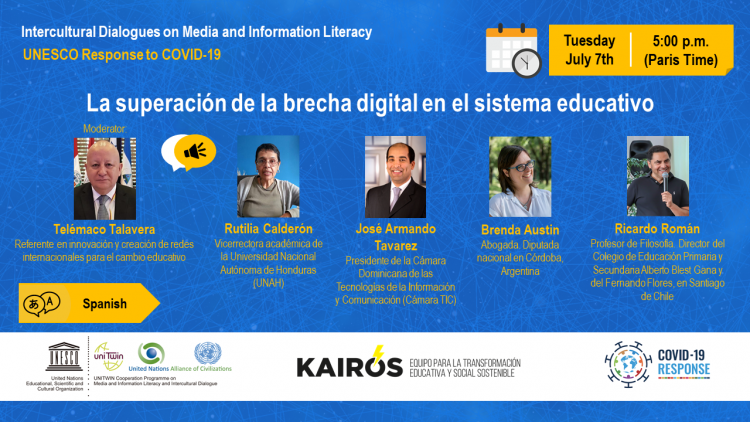 The first day, entitled Overcoming the digital divide in the education system, has been organised by Kairós, a team for sustainable educational and social transformation, and will be moderated by Telémaco Talavera, a leading figure in innovation and the creation of international teams and networks for educational change. The webinar will include the participation of Ricardo Román, professor of Philosophy and director of the Alberto Blest Gana Primary and Secondary School and the Fernando Flores School in Santiago de Chile; Brenda Austin, lawyer and national deputy in Córdoba, Argentina; José Armando Tavarez, president of the Dominican Chamber of Information and Communication Technologies (ICT Chamber); and Rutilia Calderón, academic vice-rector of the National Autonomous University of Honduras (UNAH).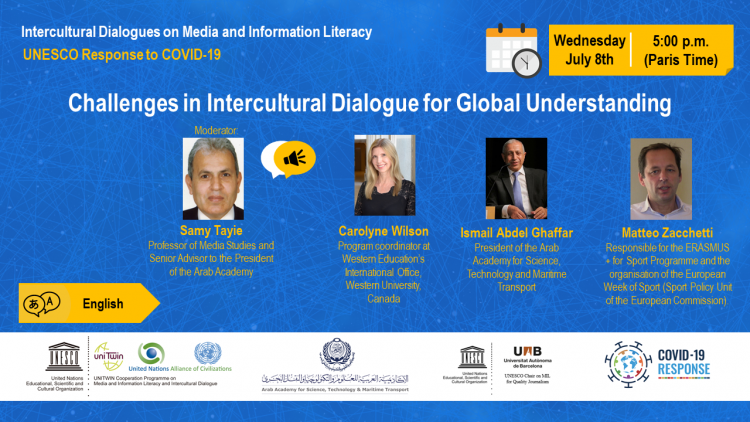 The dialogue series will continue the following day with a meeting in English, organised by the Arab Academy of Egypt, entitled Challenges in Intercultural Dialogue for Global Understanding. The session will feature Carolyne Wilson, programme coordinator at the International Office of Western Education, Western University of Canada; Ismail Abdel Ghaffar Ismail, president of the Arab Academy for Science, Technology and Maritime Transport; and Matteo Zacchetti, responsible for the ERASMUS + for Sport programme and for the organisation of the European Week of Sport at the European Commission's Sport Policy Unit. Samy Tayie, Professor and Head of the Department of the Faculty of Mass Communication at Cairo University, will moderate the event.