The Observatory for News Innovation in the Digital Society (OI2) invites you to participate in the webinar Automatic writing of texts through the use of artificial intelligence, organised as part of the research project The challenge of artificial intelligence in audiovisual news. This second day, promoted by the RTVE-UAB Chair, will take place next Tuesday 16 June at 4.30 pm (Spain), through the Zoom platform.
The second research report on artificial intelligence applied to news is dedicated to the automatic writing of journalistic texts and is structured around the following topics:
– The scientific knowledge available on the subject in question.
– Industrial development and existing commercial applications.
– Future prospects, from a technological and professional point of view.
– The consequences of the application of artificial intelligence in journalistic work.
The aim of the webinar is to present the results of the report and share future perspectives. José Manuel Pérez Tornero, director of the RTVE-UAB Chair, and Pere Vila, director of Technology Strategy and Digital Innovation at RTVE, will introduce the event. Laura Cervi, professor and researcher at the Autonomous University of Barcelona, David Llorente, founder and CEO of the company Narrativa, and David Corral, head of Content Innovation at RTVE, will also take part. The event will be moderated by José Juan Ruiz Sánchez, Deputy Director of Management at RTVE Catalonia.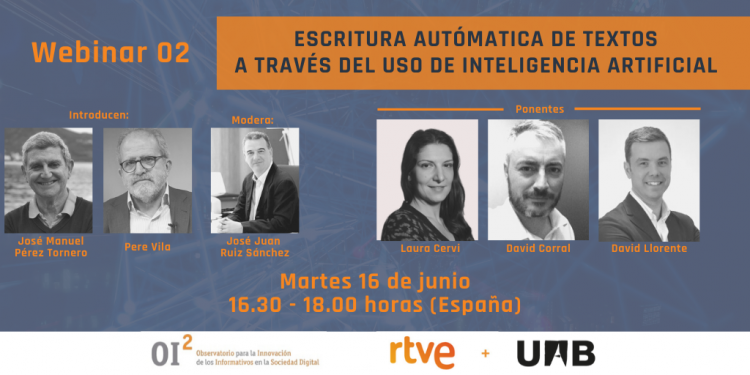 The research on The challenge of artificial intelligence in audiovisual information, promoted by RTVE and the UAB, includes other phases related to the personalisation of content, fake news, the automatic writing of content in electoral processes, the archiving of material and the interaction and participation of the audience. Each of these stages will be studied individually to understand the existing industrial development, trends and future prospects and the journalistic and social consequences generated by the use of artificial intelligence.
Register for the webinar here!
Download the complete programme